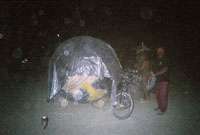 To protect it and be ready to roll it into the fire, I hung out at the globe during the Man fire with camp mates (Marcel and Jill barely visible in the dark here).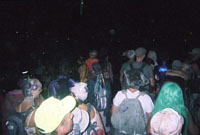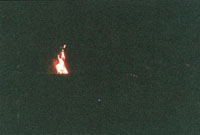 The man was a long distance off, but I still couldn't help shooting some pix with my throw away cameras!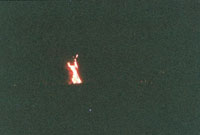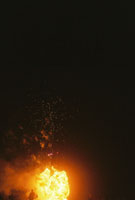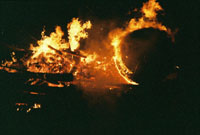 After the man collapsed and the fire had burned down some, we (Jill, Marcel, Dea, David and I) rolled the ball slowly toward the fire pit.
My biggest fear was that the ball would pick up too much speed as people tried to help and become a crushing machine, but we were able to keep it moving in a controlled fashion, bringing it to a stop several times as we cleared the crowd ahead.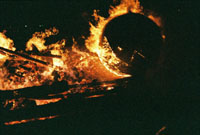 The last 20-30 feet of the trip was at full accelerating speed as we tried to roll it over a 2 foot tall log unsuccessfully. Almost made it, but after a second attempt, we moved it around the fire a bit to a location where we could push it up into the hot coals. It only took seconds for the ball to blaze into fire.