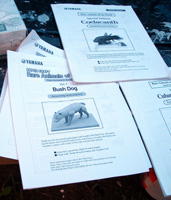 I found some very cool paper model animals on the Yamaa Japan site*. They are pdf files scaled to fit on single sheets of paper.
I imported the pdf files into photoshop at scales from 900-1100% of the original file size and printed them up as 4'x4' images from QuarkXpress.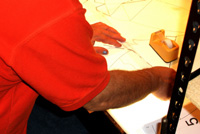 48" square images reqire 35 sheets of paper to print. (More when printing problems occur.)
On a light table, I use tons of tape to align the sheets.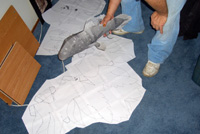 Assembled sheets are cut into seperate parts for each aminal. The big piece here is for the chest of the Orang. I'm holding a 600% Coelocanth-the one in the final piece is about 950%.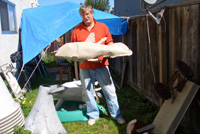 Coelocanth that has been covered in a blend of bondo and fiberglass resin (to thin it out).
I had the fish out in the sunlight to cure the previous batch of bondo that was slowly doing so since the previous day. It worked well.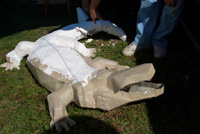 The Cuban Crocodile has a couple coats of bondo/fiberglass and some plaster used to fill in some holes and some bondo that had WAY too much hardener and turned all blocky before I could spread it out.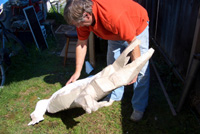 Un-seen is the solid plaster plug I poured into the 2 back legs (so far) so I can shape the legs with a file to their final shape and carve through the original paper shape in some spots. Final pure while layers of fiberglss resin will be the coat the world see.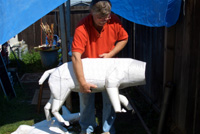 The bush dog minus head-so I have access to the interior of the dog for a whle to bulk it up with plaster and layers of bondo. This side is still mostly paper...